Most Requested Retro 80s Arcade Games Love to Play
Our Arcade Games Will Take You Back in Time
Ah, the 80s arcade games. Many of us grew up playing these classics in our neighborhood arcades. From "Pac Man" to "Donkey Kong", these games were not only a ton of fun, but they were also highly addictive. You would go in with a couple quarters and come out smelling like cheap pizza and sweat. But man, those were the days. Friday nights at the arcade were the highlight of your week. You would beg your parents for just a few more quarters so you could try to beat your high score on Asteroids or disprove your friend's claim that he was better than you at Donkey Kong.
These days, 80s arcades are making a comeback. And people are realizing just how great they were. The simplicity of the games, the challenge they provided, and the feeling of standing next to your friends as you work together to take down an 8-bit enemy is something that can't be replicated by home consoles like Xbox or Playstation.
Today, many of these classic 80s arcade games are making a comeback as people are rediscovering their love for them. Here at our company, we have seen a surge in demand for these games, especially for retro-themed events. If you're looking to add a bit of nostalgia to your next event, then consider renting some of these classic 80s arcade games. Trust us, your guests will thank you for it!
There were so many great 80s arcade games that it's hard to choose just a few, but here are some of our favorites and most requested:
Ms Pacman (1982)
--Ms. Pacman is a classic 1980s arcade game that was released as a sequel to the original Pac Man. The game is nearly identical to the original, with some subtle changes and, of course, the main character now being a girl. The intermissions between certain levels show scenes in Pac Man and Ms. Pac Man's relationship. The 80s were a great time for arcade games, and Ms. Pac Man is definitely one of the classics. If you're looking for a retro gaming experience, be sure to check out Ms. Pac Man!
Pac Man Machine (1980)
--Pac-Man is one of the most iconic video games of all time. Developed by Namco in 1980, the goal of the game is to eat all of the dots before the ghosts Blinky, Pinky, Inky, and Clyde catch you! The game was originally released in Japan as Puck Man, but the name was changed for international release due to fears that it would be vandalized. Pac-Man quickly became one of the most popular games in arcades, and its popularity has only grown in subsequent decades. The game has been re-released numerous times and inspired countless spin-offs and imitators. Whether you're a seasoned gamer or just getting started, Pac-Man is a must-play!
Donkey Kong Arcade Machine (1981)
--Donkey Kong: Arcade games were all the rage in the 80s, and Donkey Kong was one of the most popular games around. Created by Nintendo, it was one of the first platform games and quickly became a classic. The object of the game is to maneuver Mario across the various platforms and up and down ladders, avoiding the obstacles (and the angry ape Donkey Kong) to save the damsel Pauline. While it may seem simple by today's standards, Donkey Kong was a revolutionary game in its day and helped to usher in a new era of arcade gaming. If you're feeling nostalgic for the 80s, or just want to experience a classic arcade game, Donkey Kong is definitely worth checking out.
Asteroids Arcade Game (1979)
--The 80s Arcade game, Asteroids, is a classic example of the genre. In the game, the player has to shoot and destroy all the asteroids and flying saucers as the game gets faster and harder as you progress. Based on the addictive nature of Space Invaders, Asteroids Game is a vector game whereby the graphics are made up by lines drawn on a vector monitor. The 80s was a great decade for arcade games and Asteroids was one of the most popular games of the era. If you're a fan of retro arcade games, then you'll love playing Asteroids. So next time you're feeling nostalgic for the 80s, be sure to give this classic game a try.
Galaga Arcade Machine (1981)
--Galaga is one of the classic 80s arcade games that is still loved by many today. While the graphics and gameplay may seem simple by today's standards, the game is still incredibly challenging and requires great hand-eye coordination. The object of the game is to shoot down as many enemy ships as possible, while avoiding their fire. As you progress through the levels, the enemies become more numerous and their shots more difficult to dodge. Galaga is a true test of skill and reflexes, and remains one of the most popular arcade games of all time.
Frogger Arcade Game (1981)
--Frogger is a classic 80s arcade game that was originally developed by Konami and published by SEGA. The object of the game is to guide frogs home from one side of a busy road to the other via roadkill, hazardous logs and alligators. The game was extremely popular in the 80s and spawned many clones. However, Frogger is still considered one of the best arcade games of all time and has stood the test of time. If you're looking for a classic 80s arcade game to play, look no further than Frogger!
Centipede Arcade Game (1980)
--Centipede is a classic 80s arcade game that was developed by Atari and co-developed by Dona Bailey, one of the very few female game developers in the industry at the time. You play a gnome (the bug blaster) who is defending his mushrooms from giant centipedes, spiders and scorpions. This game was considered a commercial success and one of the best 8-bit arcade games. The graphics and sound were cutting edge for the time, and the gameplay was addictive and challenging. Centipede is a true classic 80s arcade game that belongs in any retro gamer's collection.
Dig Dug Game (1982)
--Dig Dug is a classic 1982 arcade game published by Namco. The objective of the game is to eliminate your enemies by pumping them up with air until they pop or crushing them with rocks. The game is set in a subterranean world and features two different types of enemies: Pookas, which are red, spherical creatures that can burrow through the soil, and Fygars, which are green dragons that can breathe fire. Dig Dug proved to be wildly popular upon its release, and its simple but addictive gameplay has made it a enduring classic of the 80s arcade scene. If you're looking for a dose of retro gaming fun, Dig Dug is definitely worth checking out.
Tetris Arcade Machine (1988)
--If you're a fan of 80s arcade games, then you've probably played Tetris. Released in 1988, Tetris is a puzzle game that features the same gameplay as the computer editions of the game. Players must stack differently shaped falling blocks to form and eliminate horizontal lines from the playing field. The game features several difficulty settings, as well as a two-player mode. Tetris was developed by Atari Games and originally released for arcades. However, it has since been ported to numerous other platforms, including home computers, mobile phones, and game consoles. While it may not be as popular as it once was, Tetris remains a classic 80s arcade game that is still enjoyed by many gamers today. Same arcade game but we put it in a new cabinet with a GIANT 65" Screen!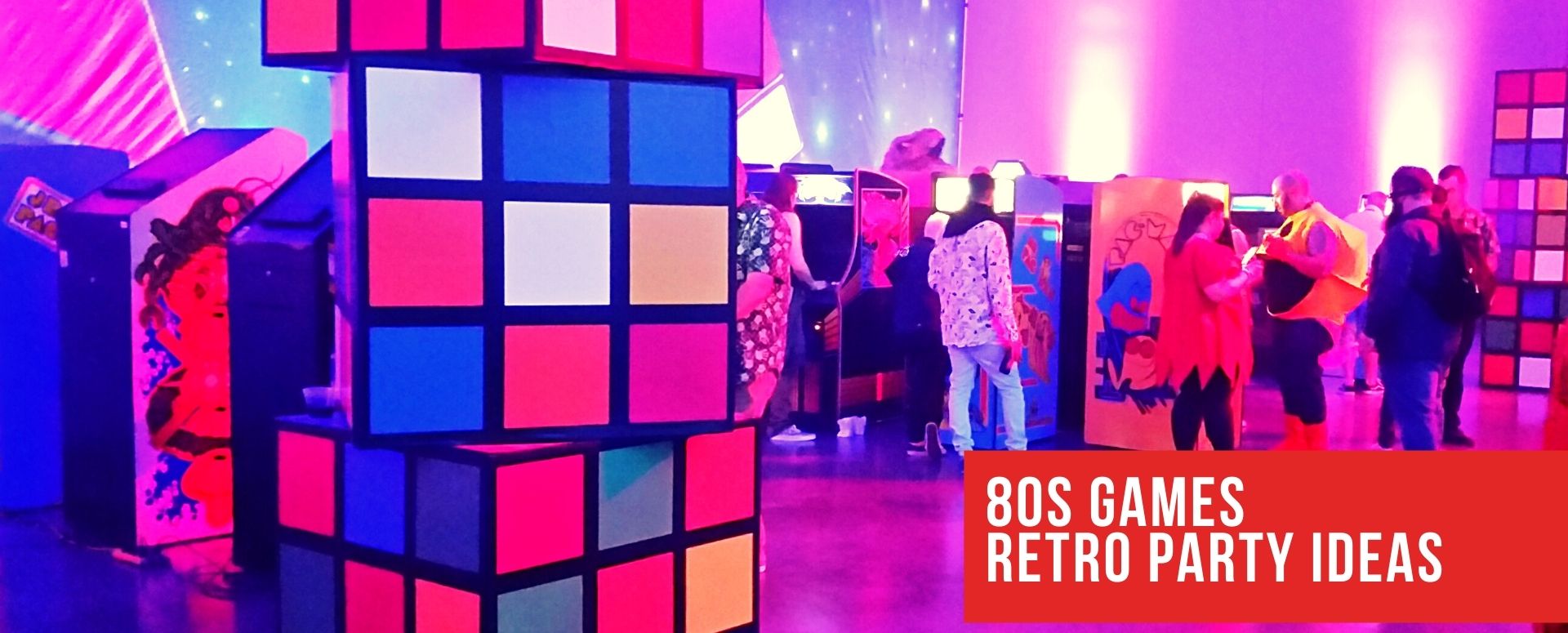 Planning a Retro Party?
Phoenix Amusements is your go-to source for arcade game rentals. With games from the 80s and beyond, we can help you create an employee experience that is guaranteed to be both fun and memorable. Contact us today and let us assist you in your Retro Party planning. We look forward to hearing from you soon!   If you're not sure what entertainment is perfect for you, contact Phoenix Amusement's customer success team – we can't wait to hear from you and help turn your dream into a retro reality.