Portable Mini Golf Rental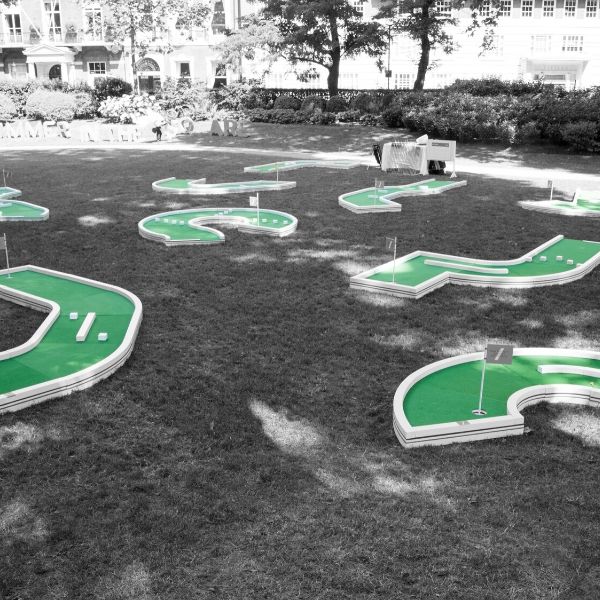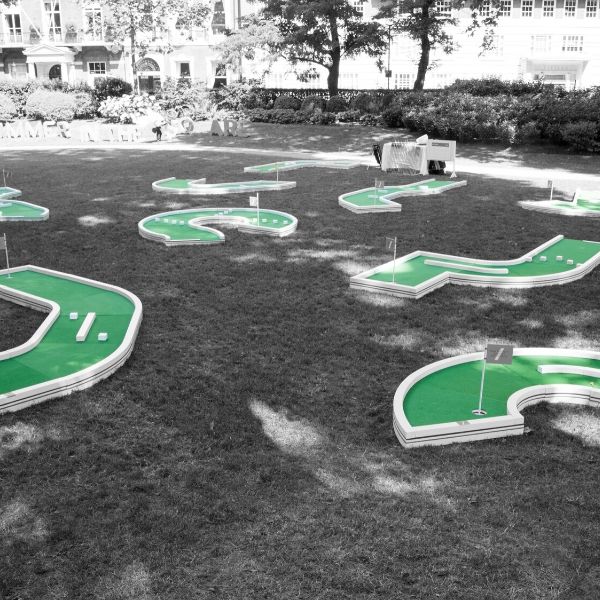 Portable Miniature Golf Rental
This portable nine-hole mini golf game is unlike any other! Phoenix Amusements in Atlanta is one of only two companies to have this golf party game rental. In fact, we're the only event rental company in the Southeast that rents this game! This modular mini-golf system with crisp white edging is super easy to redesign. Use this rental to spell out initials or abbreviations to take your celebration to the next level, whether you're a college celebrating convocation, a couple celebrating your new union, or a company launching a new product. You can even switch up the putting green for a "red carpet" of sorts, or shorten the game to fewer than nine holes – your customization options are endless!
Portable Mini Golf Rental Features
Portable nine-hole mini golf rental
Can be rented with fewer than nine holes
Swap out standard green turf for red turf (or a combination of both)
Props include rainbow pyramid and other fun, eye-catching obstacles
Crisp white edging makes modular portable mini-golf rental stand out in all manner of settings
Spell messages with colorful lettering props or redesign and reshape the miniature golf course to spell initials
ELECTRICITY: None
DIMENSIONS: Variable based on placement of holes and course design
WEIGHT: 288 lbs. (based on nine-hole standard course)
Pairs well with other sports games and trade show games as well as event accessories!
Electricity

None

Dimensions

Variable based on placement of holes and course design

Weight

288 lbs. (based on nine-hole standard course)
Description
For a truly unique mini golf experience, rent this portable miniature golf game. As one of only two party rental companies in the U.S. that offers it, you're guaranteeing your guests a unique and memorable time. Our standard version of this miniature golf game includes nine holes, but if you want fewer, we can set up this portable mini golf rental however you please. Six holes, three holes, even just one – this portable mini golf rental makes it possible.
Putt Putt Rental
Speaking of custom portable miniature golf holes, we offer an especially unusual course as part of this portable mini golf rental: A mini golf "hole" shaped like a circle. You can get this layout in just the standard golf green color, red – or both. Other courses you can rent as part of this portable mini golf game come with unique props and obstacles such as our rainbow pyramid. Our colorful, eye-catching pyramid only offers a tiny bit of space to putt the golf ball through, so guests at your event can enjoy both a fun mini-golf challenge and a truly striking one-in-a-million course.
With eye-popping colors and props, this portable mini golf rental will stand out at trade shows, holiday parties, weddings, company picnic events, and all sorts of private occasions. You also have plenty of options for customizing your rental to promote your business or match your event theme. As an example, you can redesign and reshape this golf system to display your company's abbreviation. If your business is as known by its full name as by a three-letter abbreviation, set up this gorgeous modular golf course with crisp white edging to show your abbreviation!
Try this shapeshifting mini-golf rental at a trade show booth, where passersby will see this unusual mini-golf for rent and be more likely to stop by your booth. This nine-hole portable mini-golf rental is also an ideal entertainment option for indoor and outdoor parties alike, whether a bar mitzvahs, wedding reception or company picnic. Try it alongside other golf rentals such as PuttSkee Golf, sports rentals such as Two Minute Drill Football, and trade show games such as Plinko to maximize its potential!
GOLF LIKE NO OTHER: This portable mini golf rental's standard size is nine holes, but you can rent it with fewer – even just one hole is an option. For some of our courses, we can swap out the green turf for a gorgeous, unusual red color – or both red and green.
CUSTOMIZABLE: Redesign and reshape this portable mini-golf rental to display your company's abbreviation. For example, if you're renting this game for your college's new student orientation, you can reshape it to display the three letters by which your school is best known. This game is similarly useful at trade shows, networking events, and other out-of-office occasions for corporations also known by short abbreviations,
FUN PROPS: One of the courses in this mini-golf rental is in the shape of the circle. Another has a rainbow pyramid that's both eye-catching and a formidable obstacle. You won't see props like this with other mini-golf game rentals!
RARE FIND: At Phoenix Amusements, we're one of only a few event rental companies in the U.S. to carry this gem, insuring a truly memorable and unique event for all.
CRISP AND CLEAN: This portable miniature golf rental has white edging that makes it look especially sharp in all kinds of settings. For fun, unusual, striking mini golf that looks great and provides your guests with tons of entertainment no matter the occasion, look no further for your golf themed party
About Game Rentals
Rent sports games for private parties to entertain your guests, match your event theme, educate your guests on your company's products and services, or congratulate people on big accomplishments – or perhaps more than one of these things! A customized basketball game set up in a trade show booth allows your business to easily display its branding at trade shows, networking events, and other external affairs for increased engagement with potential new customers, clients, and business partners. A customized sports game is similarly powerful at a college event welcoming new students, a holiday party congratulating colleagues on a huge year, and other fun events.
Sports games can also be great for matching event themes. Obvious theme choices include Super Bowl Sunday and sports night, but sports games are also great for nights with arcade, retro, or nostalgia themes. A portable mini golf rental, football pass, or table hockey rental can be a throwback to childhood and eras long gone or just a perfect fit for a crowd of people who remain avid sports fans. Contact Phoenix Amusements, a preferred game rental company in Atlanta and nationwide, to learn about the many ways we've seen our clients successfully use sports game rentals over our six decades of existence – and how you can do the same!